Hi everybody, my first post here.
I've found on this site many information and the service manual about the TV in subject, but I stumbled upon a strange issue.
I repaired the earphone socket (pic attached) that had been stripped away and now the TV doesn't power on, it only gives a short
beep
when you touch the power on button and nothing happens using the remote. I checked the usual things (audio paths, cracked solderings, damaged tracks, power supply, power rails), but I cannot found what's wrong.
Any idea/clue on what to (double) check this time?
Thanks in advance
GF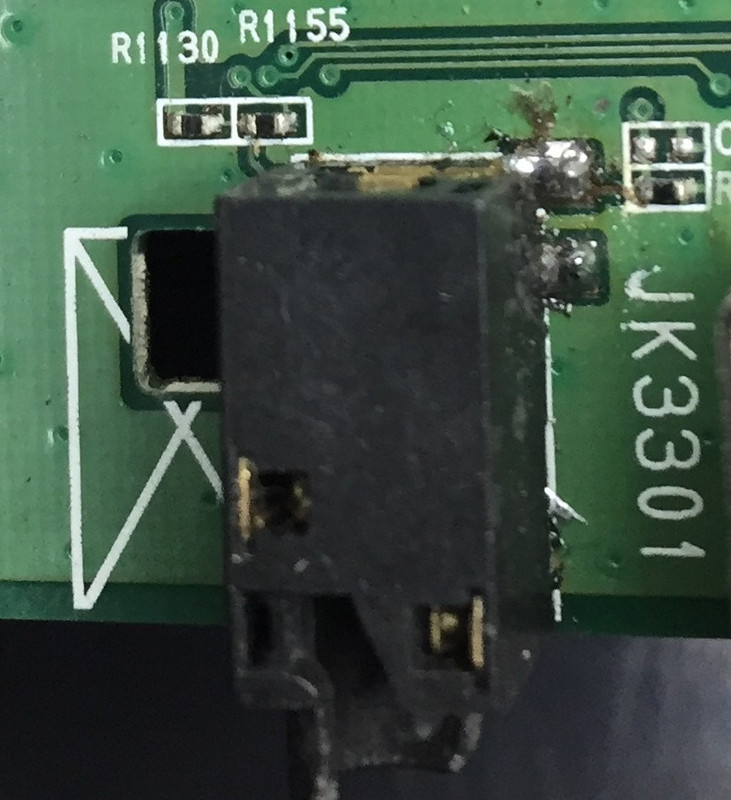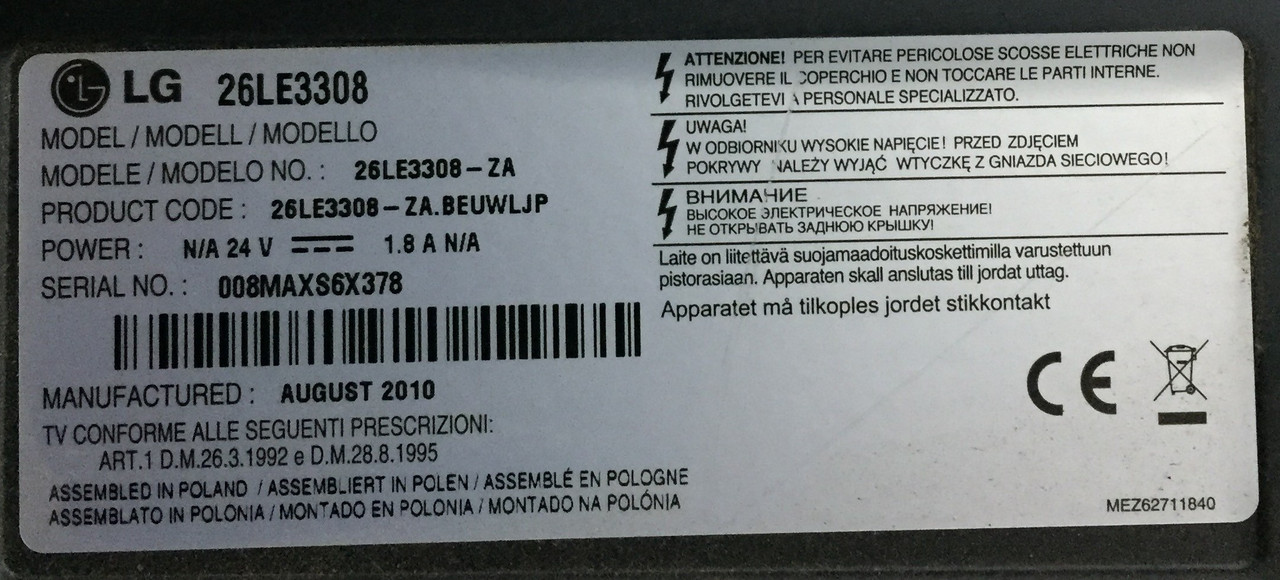 Sziasztok! Még kapcsolási rajzra is vadászom, de még csak fizetős helyen találtam. Jó lenne eldönteni, más baja is van-e a tévének, mert szűk rá a költségvetés. üdv. Tropfehérke
Üdv. Mester urak! Előzmények: T4 biztosíték kiolvadva, DC/DC konverter IC10 KA5M0280R (FPS) ic tönkrement. Cseréltem, de KA5M0380R-re, mert csak azt kaptam. Működik, de nem stabil a Vscw feszültség, cca. 80-118V között lüktet. ( Az elkókat kicseréltem.)Azt szeretném kérdezni, hogy lehet-e valamilyen átalakítást végezni az áramkörön, hogy ezzel az ic-vel is rendesen működjön, vagy esetleg más hiba lehet? Van egy szerintem söntstabilizátor IC (IC9) az áramkörben, esetleg az a ludas? Hogyan lehetne azt beazonosítani? 3B és 560 felirat van rajta. A TL431-es sorozatban csak 2B feliratost találtam. Cseréltem IC9-et TL431AC-ra, most már stabil. Ez volt a hunyó.
Sziasztok Segítségeteket szeretném kérni,került hozzám egy LG 26LH2000 lcd tv .Egyik napról a másikra jött elő a hiba bekapcsol hang van kép nem jelenik meg 10 mp után vissza ál stb be.Nagyon úgy néz ki,hogy inverter be sem kapcsol. Találkozott már valaki ilyen hibával? Az inverter panelon a biztosítékon 24V körül mértem.A többi feszültség is meg van a táp panelon Rajz hiányában nem tudom hol minek kéne lenni.(engedélyező jelek). Kép vanmegvilágitva az lcd-t látszik a kép. Háttérvilágítás nics. Táp tipusa LG EAX55176301 LGP32-09P PSU