Hi everybody, my first post here.
I've found on this site many information and the service manual about the TV in subject, but I stumbled upon a strange issue.
I repaired the earphone socket (pic attached) that had been stripped away and now the TV doesn't power on, it only gives a short
beep
when you touch the power on button and nothing happens using the remote. I checked the usual things (audio paths, cracked solderings, damaged tracks, power supply, power rails), but I cannot found what's wrong.
Any idea/clue on what to (double) check this time?
Thanks in advance
GF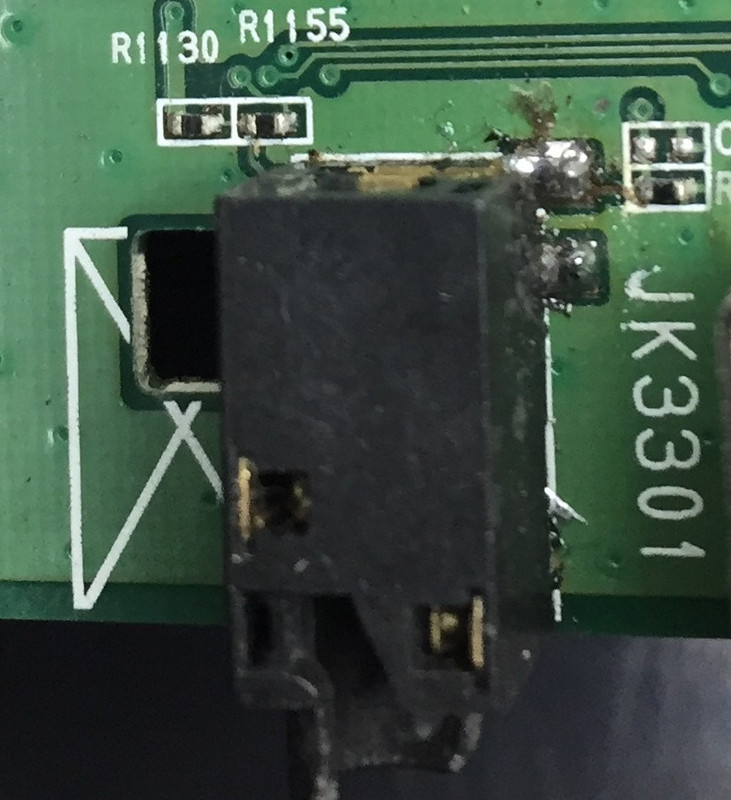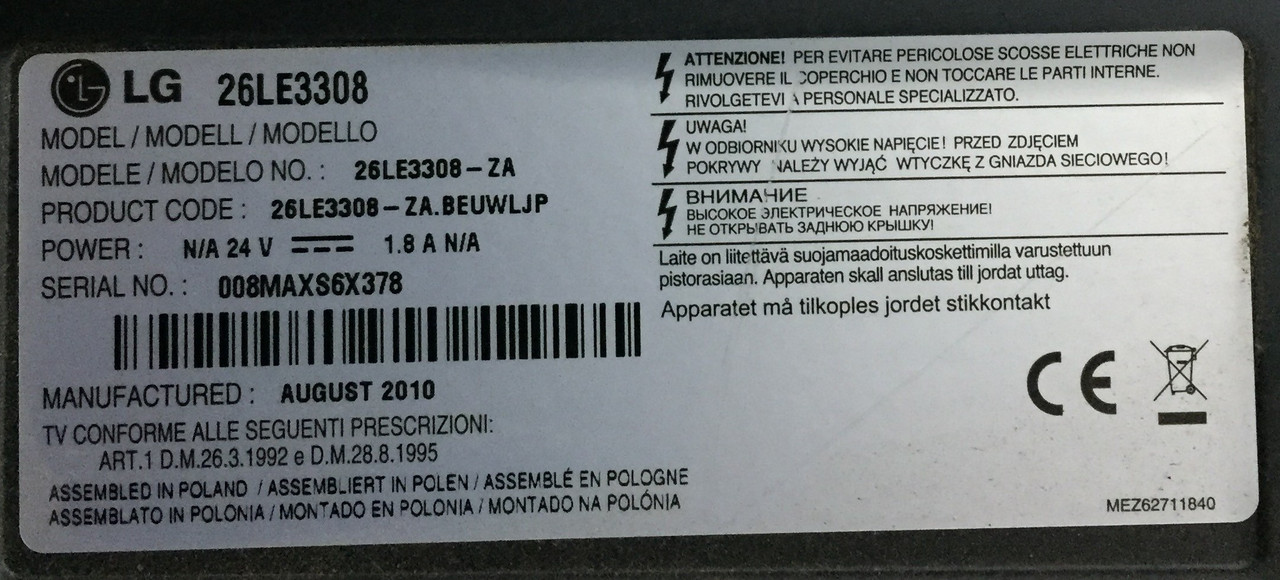 Üdv.
Adott a fenti készülék. A hiba a következő: Tökéletesen működött, majd egy idő után az összes HDMI port leállt. A készülék érzékeli a portra dugott eszközt. Kiírja a csatlakozást majd Nincs jel felirattal megy tovább. Ezt csinálja az összes HDMI porton. Minden más porton jó, csak ezeken nem. Neten sok ilyen problémával küzdő készülék van. A bemeneti ic cserélve, de a hiba nem oldódott meg.
A kérésem az lenne, hogy hogy tudom a szervice menu-t előhívni? Hogy megnézzem nincsenek-e letiltva. Illetve ötleteket várok a probléma megoldására.
Válaszd ki a megfelelő fórumot, majd adj neki címet és írd be a kérdésed.
A téma címe tartalmazza a hibás eszköz márkáját és típusát. Szintén tartalmazza röviden a problémát.
pl: ACER AL1711 monitor képernyője 5 másodperc után kikapcsol

A helytelenül elnevezett topik felfüggesztésre, majd 48 óra után törlésre kerül! Felfüggesztett állapotban nem tudnak mások addig hozzászólni, amíg ki nem javítod a címet!
A hibás cím utólagos javítása (48 órán belül) a "Szerkesztés" fülre kattintva végezhető el.
Sziasztok!
A fenti gép kb 90secenként kikapcsol stndbyba. Utánna indítható és megint megy. A táp és a háttér önmagában megy szépen. T-con Taszt lehúzása sem hatja meg. Szóval val szin main board hiba BN-94-07094f panel van benne.
Próbáltam hüteni fűteni de nem reagál. A szoft frissités nem sikerült elvégezni. Esetleg ötlet a main board cserén kívűl?
Tisztelt fórumtársak!

A fent említett tévé (LG 42LN575S-ZE) háttér világításából több led tönkrement. Az látszik ,hogy az összesen 10db (5sor x 2db) csíkból már többett cseréltek. A hibás 3db ledet sem tudom cserélni,mert ami nekem van ( SMD 2835 3V 1W Cool white For LG Innotek LCD Backlight LED ) az csak 280mA-et tud,és a szervízkönyv szerint a ledek 157.5V max 0.341mA-rel vannak meghajtva. Másrészt,valószínű egy idő után többivel is gond lesz. Ezért a teljes garnitúrát cserélném.Ha van valakinek ilyen LED készlete,vagy csíkja arra kérem jelezze. Az aliexpress is eszemben van ,csak hosszú idő amig ideér. Előre is köszönöm a segítséget!

üdvözlettel: Feri