Üdv! Rutinos whirlpoolosokat kérdezném: lezár, motort háromszor forgatja, közben engedi be a vizet.A három mozgatás után belekezd a hosszabb etapba, majd mikor vége lezárja a vizet, megáll, és tovább semmi. Tízhúsz másodperc után leürít, és néz ki a fejéből.Körbeforgás, hibaüzenet semmi. Tápja rendben, perifériák szintén. Mi lehet a hiba? Köszönöm: Sanyi
Szép jó napot! Ignis AWV434_400 as mosógép csapágyazás közbeni megakadással küzdök. Lenne ez a nem éppen mai ,de jó állapotú gép. Date: 14.02.2001 (Mod.01) Subject to modification Document-No.: 4812 712 15186 http://elektrotanya.com/whirlpool_ignis_awv434.pdf/download.html Kivettem a dobot a hátfallal együtt, a probléma a belső csapágy annyira fogja a tengelyt hogy nem lehet sajnos kiütni pedig amúgy simán kihúzható lenne. Szét még nem esett, így gyakorlatilag eddig nem sikerült finom ütlegeléssel ki szedni a dobot. A tengely puha mint a vaj,nagyon nem lehet zuholni.. Kérdés még a szimmering réz csúszó felülete, de az majd ha kint lenne a dob.. Szóval mindenféle ötletet tippet várnék,mert most egyenlőre félre tettem. Prés alá így nem fér, de ott is alá kéne támasztani. Lehúzóval nincs mihez fogni. Lehet a csillagról le kéne venni a dobot, szegecselt rögzítésű, talán úgy jobban lehet vele valamit véteni. Valami célszerszám kéne,de lehet potya fáradozás mert a végén meg nem lehet a réz gyűrű miatt használni.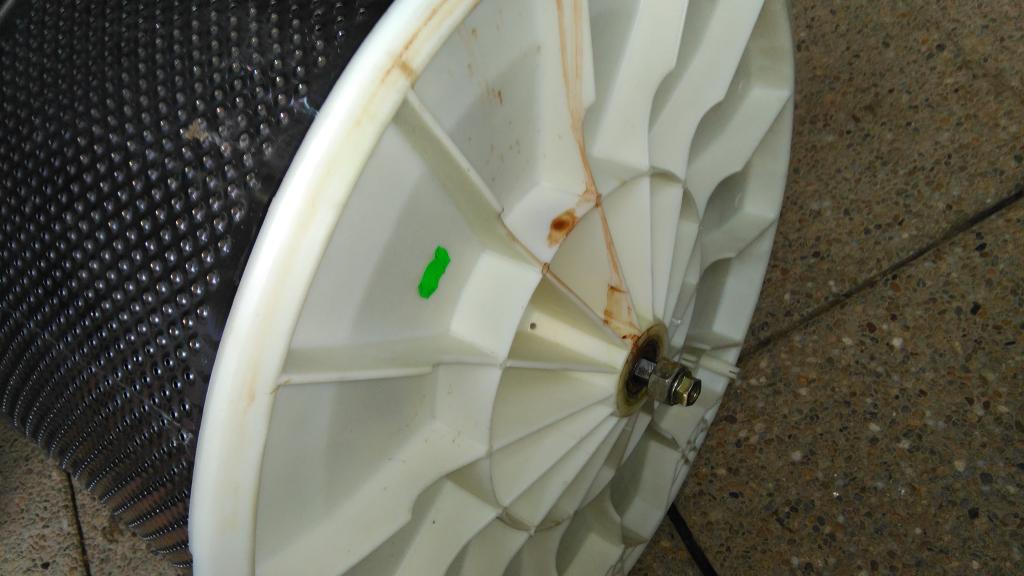 Tisztelt Szakemberek! Az AWT 2284 mosás közben megadta magát. Lehajította a szijat, a másik oldalon bolygómozgást végzett a "kitámasztás". Lekaptam a két oldalát, és a hajtással szembeni oldalon leszedtem a csapágy deklit. A deklivel együtt természetesen lejött a csapágy is és még valami, feltehetően a dob tengely csonkja, mivel a dobon csak egy homorú felület maradt, lásd képek. Olybá tűnt, hogy a tengelycsonk ragasztva volt a dobhoz és ez ragasztás megadta magát. Kérdésem: hogyan tovább a javítás útján?