Sziasztok! Nincs meg véletlenül valakinek a címben említett kütyű kapcsolási rajza ? köszi !
I have a Yamaha CDX-590 CD player and it skips on some CDs - original CDs, these CDs play without problems on my other CD players. I have changed the laser unit (KSS-210A) but this didn't solve the problem. When I turn the player upside down, it plays the problematic CDs without a problem. That's why I think the laser needs adjustment. I have only a service manual for the CDX-493/593 but they should be very similar to the CDX-590. It seems that the adjustments are done via "test mode" of the CDX-590, unfortunately there is not much information, how to exactly, in the service manual. Here is a picture of the PCB. http://www.volny.cz/hwtest/PCB.JPG Here are the "test mode" sections of the service manual. http://www.volny.cz/hwtest/TM1.GIF http://www.volny.cz/hwtest/TM2.GIF In "test mode" I have tried Auto adjustment mode 1, 2, 3, but I don't know if it should work fully automatic without any intervention or when the mode is fineshed and I can proceed to the next one. So I activated mode 1, waited a while, activated mode 2, waited a while, activated mode 3, then exited test mode. It didn't help. Mode 1 - only a short blink of two horizontal dashes on the display and thats it Mode 2 - started "play" without sound from a strange time 99:00 (the test CD is not so long), after a while it skips to another time, "plays" a while, then skips back and "plays" and so on, I left it about an hour and it was still going on Mode 3 - seems to be very short as mode 1 I think I'm missing something ... Maybe someone did this or even serviced Yamahas in an official service and can provide information how to adjust the laser? Or maybe the problem is not the laser?
Sziasztok! Lenne egy nagy kérdésem, egy TERTA 422 van az asztalomon, és ki szeretném benne cserélni az elektrolit kondenzátort, ami egy TESLA TC517 50/50M 50+50uF 250/275V-os darab. A problémám csak az, hogy a fém háza szigetelt, de csak két kivezetése van, az egyik piros pöttyel, a rajzon viszont 3 lábbal van bekötve. Tegyek bele két 47uF-ost, de akkor hová kössem a közöst, vagy elég csak egy 100uF? Esetleg ez sorbakötött két elkóról szól, ami igy polarításfüggetlen?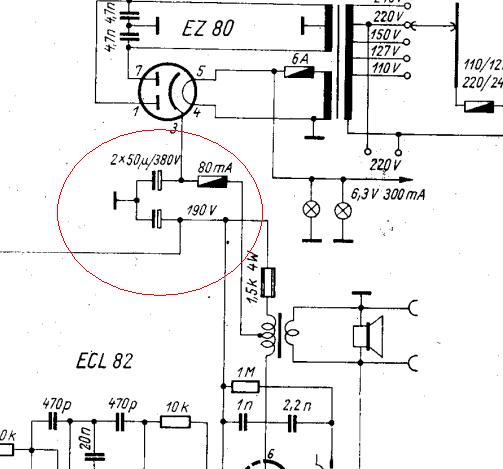 Üdv: Jácint
Sziasztok! Ennek a gépnek az a hibája, hogy nem veszi be a lemezt, a mechanikát már átnéztem, de nem találtam problémát. Ha benne marad a lemez, áram alá helyezve kiadja azt, de be már nem. Külső táppal meghajtva a motort beviszi, és ki is adja a lemezt. A meghajtó icénél mértem 5V-ot, és 3V-ot, de mit kellene még ellenőrizni?