Szervusztok!
A kapcsolási hibák véletlenszerűek, egyaránt érintik a késleltetett (WAKE UP, SLEEP) és az időben programozott (TIMER ONLY, DAILY) be-és kikapcsolási funkciókat, de nem csupán előfordulása, hanem a funkció végrehajtása is véletlenszerűen változó. (pl: a programban jelölt egység (CD, tuner) kapcsolása nem történik meg, vagy éppen fordítva, ilyenkor az erősítő részt nem kapcsolja.. ) Az AUTO POWER OFF mindenkor hibátlanul végrehajtásra kerül. A kijelzés és a megjelenített információk, v.mint az óra és az időzítések rendben működnek, a kezelőgombok és a távirányító általi beavatkozás szintén jól működik. A hiba gyakorisága a torony magnó részegységének (TD-MXG7BK) csatlakoztatása után jelentősen megnő. Ebben nem látok ugyan érdemi összefüggést, de mégis ez van. Ugyanezen részegység egy másik toronyhoz csatlakoztatva nem okoz hibát. A frontpanel cseréjével a hiba megszűnik, így a HD614089SD57 IC-t kevertem gyanúba annak ellenére is, hogy a lábain mért feszültségek a rajznak megfelelően rendben vannak. Netán tudtok érdemben segíteni?
Kapcs.rajz a Tanyán.
Hello

My devide stopped working, impossible to turn on. Looks to me as power supply is dead.
So, looking for schematics or SM. Does anybody has it or can help with this issue?

Thanks
Sziasztok! Nagy valószinuseggel rossz a KF IC, tápja megvan bemenet megvan, kimenet nincs, lengyel fórumon is ez az IC ment el. SM-ben vannak feszültségek és ez alapján szerintem rossz az IC. Ebay-en látom hogy van, de én nembirok külföldrôl rendelni nem vagyok .hu henem barbár középkorban vagyok .rs-ben.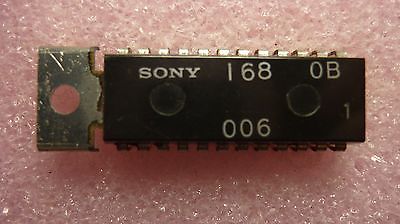 CX 168 széles DIP24 tok+hütô, ilyen tokban valószinü nincs, hanem valami DIP16-os KF-ek, melyiket ajánljátok hogy bedrótozzam helyette?
Want to share: Have downloaded the schematics from this forum to help repair the amplifier of a friend. Turned out that Sony decided to route the earth through the chassis, even the earth between the various supplies. When one takes the main board out of the chassis and switches the amp on, there are up to 20 volts difference between the eart (and hence reference) of the pre-amps and the main amps. Luckily the amp goes into protection but from a design point of view it is not nice to rely on screws and aluminum face plates to conduct up to 0.2 amps of current from one supply to another. What I did is solder wires to every eart point and connected them on the main board to make it stand alone and not rely on conducting current through the chassis anymore. Bad design, simple repair but took some digging in the schematics to find out what exactly was going on!