Hi everybody, my first post here.
I've found on this site many information and the service manual about the TV in subject, but I stumbled upon a strange issue.
I repaired the earphone socket (pic attached) that had been stripped away and now the TV doesn't power on, it only gives a short
beep
when you touch the power on button and nothing happens using the remote. I checked the usual things (audio paths, cracked solderings, damaged tracks, power supply, power rails), but I cannot found what's wrong.
Any idea/clue on what to (double) check this time?
Thanks in advance
GF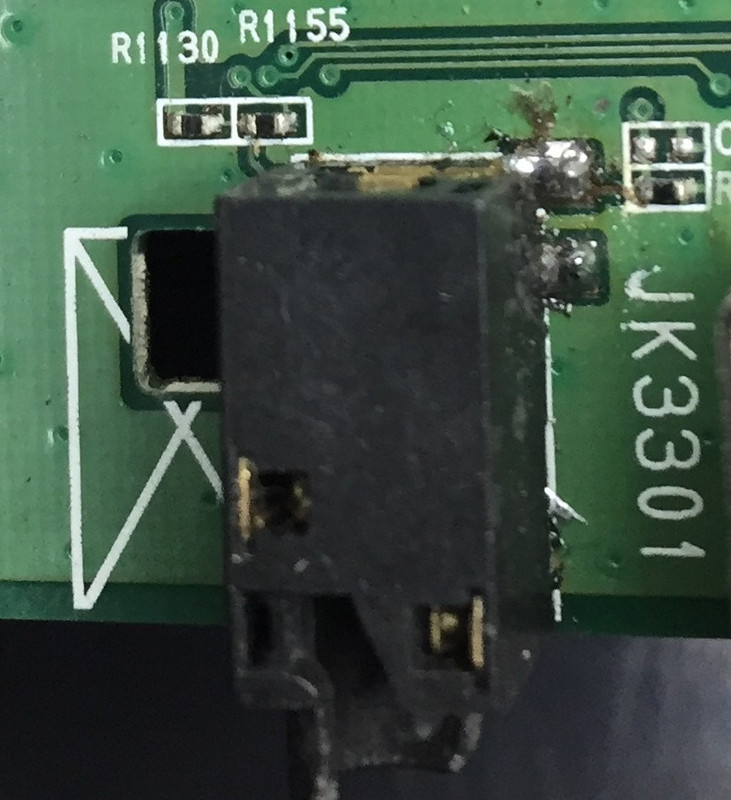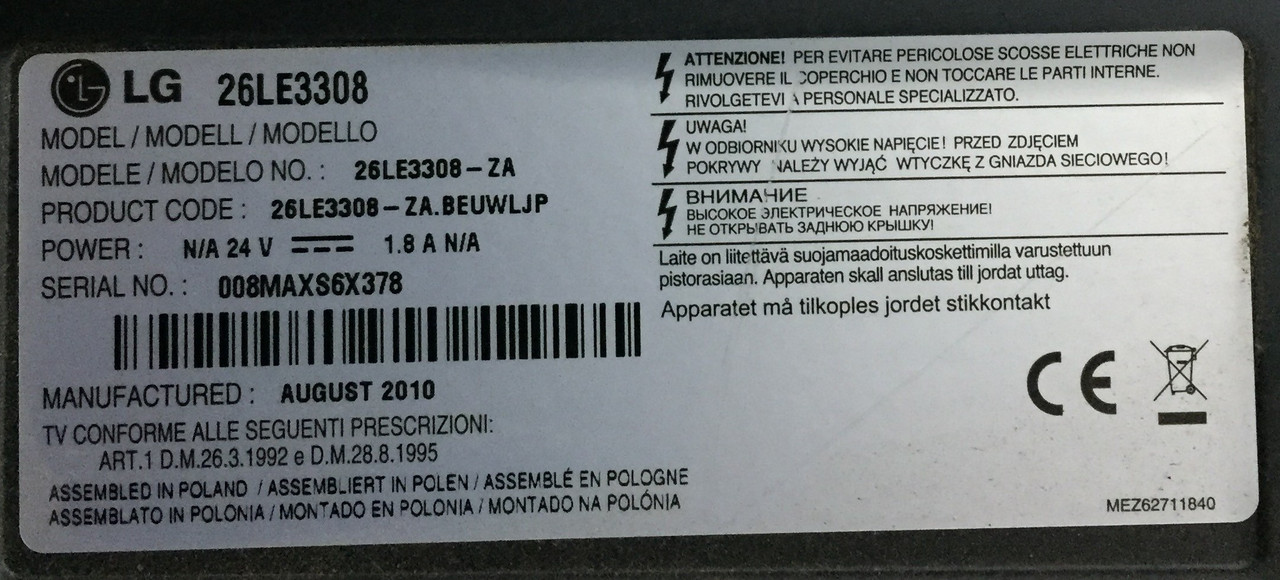 Sziasztok!
LG 32lb650v tv készenléti üzemmódból nem kapcsol be. A bekapcsolásra 7-et villan hibakódként. A táp panelen nem található hibás alkatrész. Mi lehet a hiba oka? Hogy lehetne a tv-t bekapcsolás nélkül reset-elni esetleg?
Válaszd ki a megfelelő fórumot, majd adj neki címet és írd be a kérdésed.
A téma címe tartalmazza a hibás eszköz márkáját és típusát. Szintén tartalmazza röviden a problémát.
pl: ACER AL1711 monitor képernyője 5 másodperc után kikapcsol

A helytelenül elnevezett topik felfüggesztésre, majd 48 óra után törlésre kerül! Felfüggesztett állapotban nem tudnak mások addig hozzászólni, amíg ki nem javítod a címet!
A hibás cím utólagos javítása (48 órán belül) a "Szerkesztés" fülre kattintva végezhető el.
Szép estét az uraknak.
Fent jelzett televízióban alaplapot cseréltem. Bekapcsol, működik minden funkciója .
A kérdésem a következő : ez egy 42" os televízió de kb egy 32" os nak megfelelő képet ad a képernyő bal felső sarkában.
Az alaplap egy bontott darab , Hol tudnám a képernyőre optimalizálni a képet ?
A menü és minden más jó . Csináltam 2 fotót . --- Tehát a menükép bal felső "" előnézeti "" képén látható az állapot , ez van teljes képernyős módban is .
A menü teljes képernyős módban , jól működik.
Válaszaitokat köszönöm !
Tisztelt kolegák, a címben megadott plazma logic main, avagy ctrl modulja nem adat ki jelet magábol egyik részegységre sem, ide értem az Y,Z,X sus-okat. A hiba ami miatt nem indúlt a TV, az Y-sus-on zárlatos IGBT és az alsó Y-buffer modulon egy IC. Ezen anomáliák rendbetétele után bekapcsol de semmi kép továbra sem. Szkóppal letapogatva az összes adatvonalat mindhárom modul felé kiderűlt, hogy semmit nem ad le feléjük. A modult tápja OK, a rajta lévő stabilizátorok is szépen végzik dolgukat és annak jeléül, hogy ott van a modulon 1 LED is világít. Ekkor kiderűlt a keserű valóság, hogy valaki egy hibás CTRL modulos TV-be beépítette saját zárlatos moduljait, majd továbbadott rajta. Klasszikus kakukktojás. Na, ami van az van. Most a tőlem e téren tapasztaltabb kolegák segítségét kérem még hozzá abban, hogy ezek a CTRL modulok softwarehibássak, vagy a hardware adta be az unalmast. Ha soft, akkor megér egy misét, ha hard akkor találnom kell egy donort. A csatolt képeken a szükséges infók megtalálhatók. Üdvözletem