Sziasztok!
Hozták a készüléket, némi villámtevékenység eredményeképp fejre állt (talp jó helyen van :) ). A samsung logo még helyesen jön be.
Az INFO MENU MUTE POWER-rel be tudtam lépni a szervízmenübe, de nem találtam mirror opciót, viszont találtam egy FACTORY RESET menüpontot. A TV lekapcsolt, bekapcsolás után gyáriról indult, de a kép még fejjel lefelé. Azóta viszont a szervíz menüben nem enged lépkedni.
Mit próbáljak?

----------------------------------------- Megoldás -------------------------------------
Szerencsére gondolt egyet a TV, és ismét lehetett lépkedni a szervízmenüben.
A type és a model beállítása után helyre állt a kép.
Itt találtam segítséget:
https://www.avforums.com/threads/samsung-le32d400-media-player.1513118/

Type: 32A6AH1E ( ezzel elindult, elég lassan lépked a tipusok közt)
Model: LD400E
TUNER: SEC_TC

Üdv: Jácint
Szevasztok!

A fenti csavarok nélküli fos nem kapcsol be készenlétről, csak villog. A Mainon az IC1302 pozíció számú IC-t melegítve bekapcsolható, ezt lehűtve ismét nem indul.
Main: BN94-11899D A013
Kijelző:CY-JM049BGHV1H
Minden segítséget előre is köszönök!
Egyúttal maint is keresek hozzá.

Köszönöm!

norty
Hello, mint ahogyan a címben írtam egy SAMSUNG LE32A451C1 infráról csak nagyon ritkán kapcsolható be, oldalról meg szintén nehezen!
A helyzet fokozatosan romlott.
Nyomom az infrát, az előlapon lévő piros LED villog, rövideket, néha hosszabbakat, de meg nem adja magát a TV.
Majd a sokadik próbálkozás után halkan pattan a hangszóró és a TV bekapcsol. Infráról.
Mi pusztult el ilyenkor?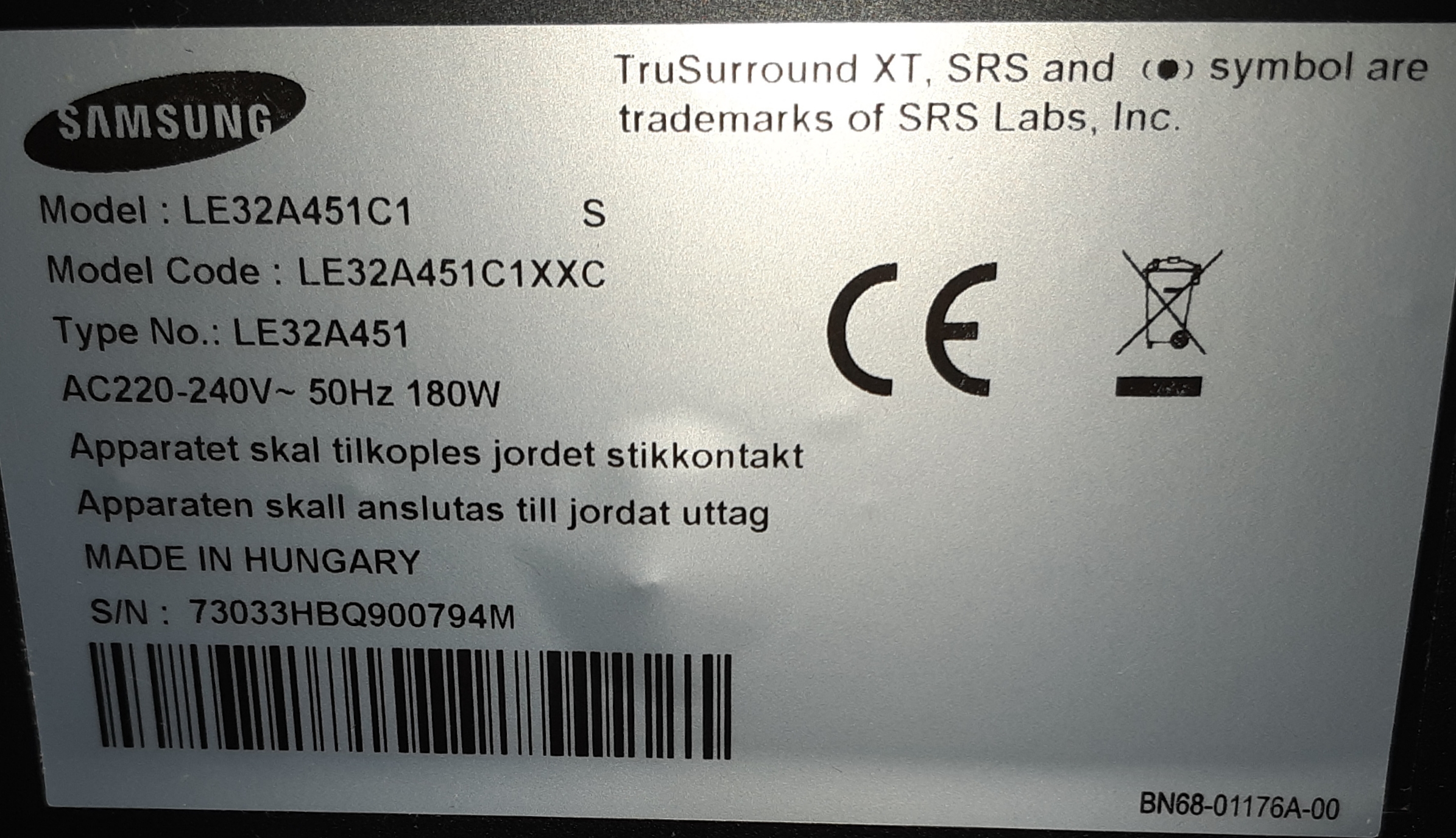 Sziasztok, van egy ilyen hiba, de projektort eddig csak táp-sor-STK hibával javítottam. Hogy kell megszüntetni az olajfolyást? Kis alapképzést tudnátok adni? Köszi. Tamás