Sziasztok! A fenti fejegység véletlenszerűen, de percenként bekapcsol. Bekapcsolt állapotban a TAPE-RDS felirat villog 10-15Hz-el (kb.) és ilyenkor elhallgat. Nosza valamelyik mechanika végálláskapcsoló kh-s. De nem egyik sem kh-s. Próbáltam azt, hogy az alaphelyzetbe zárót összeforrasztottam a bontóról pedig leforrasztottam az egyik vezetéket. Helyzet változatlan. Szkóppal méricskélve az egyik kapcsoló (alaphelyzetben bontott állapotban van) lábán alaktalan, hullámzó véletlenszerűen változó jel van. Amikor ez a jel eléri a 2V-ot akkor kapcsol magnóra (TAPE). Néha begerjed és szabályos négyszögjel van a lábán, olyankor villog a kijelzőn a felirat (jogosan). Kérdés, hogy mi ott az a zavar, mitől lesz négyszögjel és honnan jön? Tudom kettőt és könnyebbet, de egész délután ezzel küzdök, már tikkel a szemem. Rajzot nem találtam, de jól jönne. Csatolom az előlapot, hátha ismerős valakinek. Üdv.
Udv mindenkinek, Egy kis segitseget szeretnek kerni a tisztelt kolegaktol. Egy Grundig Car 2002 auto radioba a kodot nem sikerul beirnom . Lehet hogy nem jol tudom a procedurat. Tudna valaki segiteni ebbe? Elore is koszonom.
Üdv! Egy Grundig R2000-es került hozzám. Ismerősé, akit ráadásul érzelmi szálak fűznek a készülékhez, ezen kívül hölgy is az illető. A panasz az volt, hogy nem szól. Szétszedtem és hiányzott a 63V. A táp: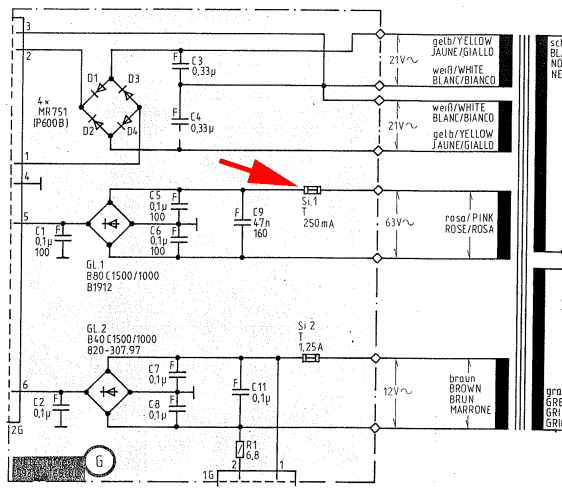 A nyíllal jelölt biztosíték volt kiégve. Rövid méricskélés után nem találtam semmi különösebb problémát, így betettem egy 1.3 amperest (ilyen volt otthon, de mielőtt visszaadom veszek olyat mint ami gyárilag volt benne), bekapcsoltam és tökéletesen működik. Először arra gondoltam, hogy túlhajtották szegényt, de a végfokok tápját a 2x21V látja el. A biztosíték csere után járattam egy órát, semmi problémát nem tapasztaltam vele azóta. Mit gondoltok, merjem visszaadni? Azért dilemmázok, mert nem szeretném visszakapni egy hét múlva, a biztosítékok meg nem szoktak csak úgy kiégni... Rajz: http://elektrotanya.com/?q=showresult&megnev=grundig&megnev2=r2000gb&kategoria=&kat2=schematics DM
Trying to troubleshoot a issue with this radio and there are some SM / schematics on some websites,
but they are slightly different than this one.

Would anyone know a place to look where there are some Grundig people familiar with the products?